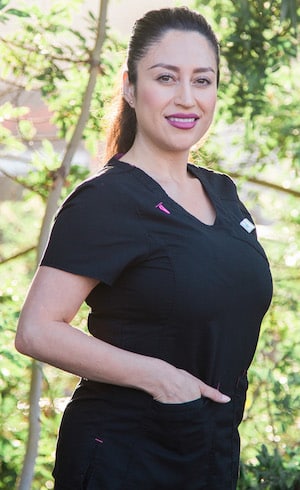 Carla graduated from the Marinello Esthetic program in January 2016. Driven by her inquisitive passion for skincare, Carla continues to make learning and growing a top priority.
She is passionate about skincare and educating her clients. Thorough and complimentary skin analyses are given to ensure that all of your questions are answered to full satisfaction.
The most enjoyable part of her work is meeting and connecting with new people, building relationships with her clients and the satisfaction of giving her clients beautiful, healthy skin. 
When not practicing esthetics services, Carla enjoys cooking, reading and spending time with her family.
---
CLASSIC FACIAL  (60 MIN)
A customized treatment for healthy skin which provides cleansing, purifying, 
extractions, the use of electrical modalities if needed and a masque. Can be for the face or back!
CHEMICAL PEEL  (10 MIN)
A chemical peel is used to remove top layers of skin, which allows the dead 
surface skin to peel off. The peeling process leads to new skin growth which is usually smoother, healthier, and less wrinkled. Great for pigmentation too!
CLASSIC FACIAL + CHEMICAL PEEL ADD-ON  (75 MIN)
Reap the benefits of the classic facial and chemical peel for only $80 more.
ANTI-AGING  (60 MIN)
Turn back the clock with this facial! Reduce visibility of fine lines and wrinkles, capillaries, redness, and sun damage.
GENTLEMEN'S FACIAL  (60 MIN)
Gentlemen – Put your best face forward with this facial that is designed just for you. We will clean, exfoliate, and rehydrate your face and neck.
TEEN CLEAN (45 MIN)
This treatment is designed specifically for youthful skin. In addition to the facial, education and home care recommendations makes this treatment a great confidence booster!