Alta Dermatology Products
Our products are developed using the highest quality ingredients to deliver safe, superior results in treating numerous skin conditions and skin types. All our products are made in the USA.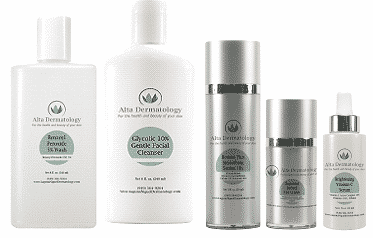 Skin Brightening Therapy 
Skin Brightening Pads contain the most powerful brightening ingredients of Kojic Acid, Arbutin and Bearberry along with skin protective antioxidants to soothe the skin to help reduce redness. 
Benzoyl Peroxide 10% Wash
Benzoyl Peroxide Wash is a therapeutic, soap-free wash that effectively cleanses and treats acne-prone skin without drying out or causing irritation to the skin. 
Glycolic 10% Gentle Facial Cleanser
Specially formulated to unclog pores and remove dead skin cells that can interfere with the proper oil drainage of the skin. 
Gyl/Sal Pads
Ultra pure glycolic acid coupled with the proven acne fighting ingredient salicylic acid. Formulated to unclog pores and accelerate the removal of dead skin cells. 
Vitamin CE + GTP Serum Intense age defying serum delivers daily defense against environmental damage, calming and rejuvenating skin while protecting against fine lines, wrinkles and loss of firmness.
Hydrating Serum
This universal booster provides all day moisture retention and visibly reduces the signs of aging with a nourishing blend of antioxidants and humectants. With each drop skin appears brighter, firmer and rejuvenated.
Restorative Moisturizer
Nighttime Bio-Therapy is a moisture-boosting, rich night cream that improves skin hydration and reduces the appearance of fine lines and wrinkles in mature skin. 
Ultra Lite Facial Cream
Elite Facial Cream Ultra Lite delivers sheer, oil-free hydration with soothing aloe vera and nourishing antioxidants to deliver smoother, softer skin. 
Retinol Eye Cream
Proven to reduce the appearance of fine lines & wrinkles, dark circles and puffiness.  Improving skin tone and texture while increasing the firmness & elasticity.
Hyaluronic Eye Serum
Provides ultimate hydration benefits to the delicate and often dry eye area with its hyaluronic acid enriched formula.  This nourishing serum delivers superior hydrating benefits to soothe, smooth and plum the eye area.  
Firming Neck Cream
Revolutionary neck firming cream developed with the most innovative and effective ingredients to help firm and rejuvenate skin that has lost definition with age and protects from future damage. 
Retinol Body Lotion Age defying body lotion with all-trans-retinol help to visibly lift and tighten skin and improve skin texture and tone. Powerful antioxidants to brightens and soothe and hyaluronic acid for intense hydration.
Spray Sunscreen All-mineral spray sunscreen that uses both zinc oxide and titanium oxide. The formula goes on transparent for a sheer finish.
Retinol PM Serum Clinically proven to help improve look of fine lines, wrinkles, pores and blemishes.
Revision intellishade SPF 45 Anti-aging tinted sunscreen. Added peptides help to  improve the appearance of fine lines and wrinkles while vitamin C works to brighten and even skin tone.
EltaMD
EltaMD sunscreens help prevent sunburn. They also decrease the risk of skin cancer and early skin aging caused by the sun, when used with other sun protection measures. EltaMD sunscreens are formulated with transparent zinc oxide and are noncomedogenic, made for sensitive skin, fragrance-free and paraben-free.
EltaMD UV Clear Broad-Spectrum SPF 46
Oil-free facial sunscreen for skin types prone to acne and rosacea. Comes in tinted or non-tinted.
EltaMD UV Lip Balm Broad-Spectrum SPF 31
Moisturizing lip sunscreen for all skin types
EltaMD UV Daily Broad-Spectrum SPF 40
Facial sunscreen with hyaluronic acid for dry and post-procedure skin. Comes in tinted or non-tinted.
EltaMD UV Sport Broad-Spectrum SPF 50
Water-resistant body and facial sunscreen for all activities
EltaMD UV Physical Broad-Sepctrum SPF 41
Oil-free facial sunscreen for extra-sensitive and post-procedure skin
EltaMD UV Pure Broad-Spectrum SPF 47
Oil-free, water-resistant, body and facial sunscreen for sensitive skin
EltaMD UV Replenish Broad-Spectrum SPF 44
Oil-free facial sunscreen that helps restore lost moisture to dry and stressed skin
EltaMD UV Lotion Broad-Spectrum SPF 30+
Body and facial sunscreen formulated transparent zinc oxide
Pharmaceutical Specialites, Inc.
Pharmaceutical Specialties Inc. is a primary manufacturer of fragrance-free products for sensitive skin care. All skin care & hair care products do not contain dyes, fragrance, masking fragrance, lanolin, parabens, formaldehyde and other preservatives.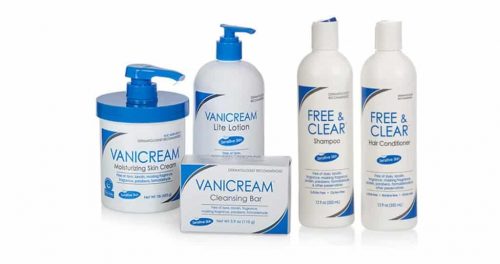 Vanicream™ Skin Cream
A non-greasy, long-lasting moisturizing cream that is easy-to-spread, quickly absorbed and does not clog pores
Vanicream™ Cleansing Bar
A soap-free cleansing bar. There is Vanicream skin cream in this formula to help keep skin moisturized. Non-comedogenic.
Vanicream™ Gentle Facial Cleanser
A mild facial cleanser that helps remove makeup and excess skin oils without drying the skin. Non-comedogenic.
Vanicream™ Gentle Body Wash
A fragrance-free cleanser that removes dirt and oils without drying the skin. Ideal for daily use on hands and body.
Free & Clear™ Conditioner
Helps prevent tangles and hair breakage. Fragrance-free, protein-free.
Free & Clear™ Shampoo
Non-medicated, formaldehyde-free, protein-free, fragrance-free shampoo. Leaves hair clean and manageable. Ideal for daily use.
Vanicream™ Daily Facial Moisturizer Hydrating moisturizer that is non-comedogenic, formulated with hyaluronic acid and ceramides.